Drive-In Movies at the Mall
---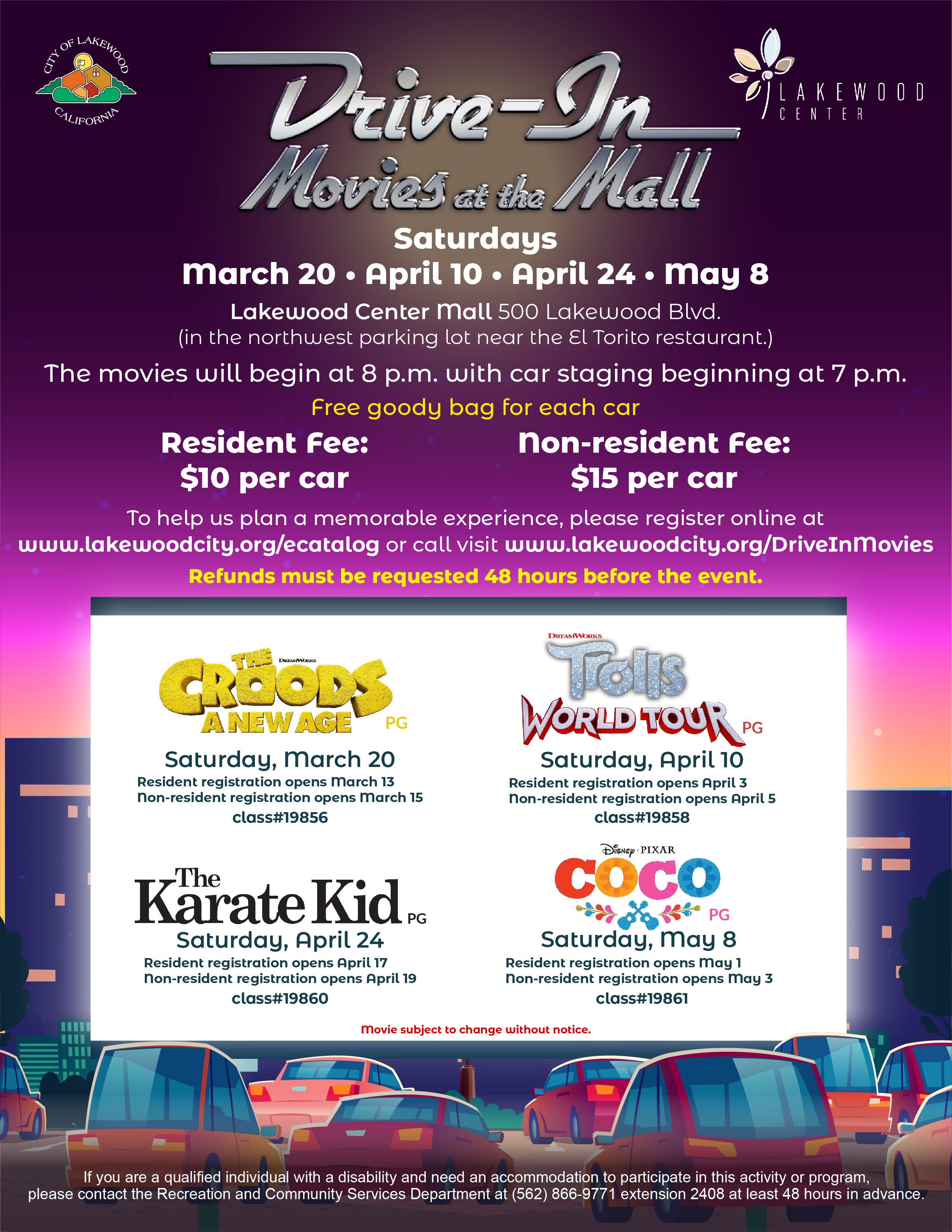 Drive-In Movies at the Mall
Lakewood Center Mall - 500 Lakewood Center Mall (in the northwest parking lot near El Torito Restaurant)
Saturday, March 20, 2021 - The Croods A New Age PG
Resident registration opens March 13. Non-resident registration opens March 15. Activity: #19856
Saturday, April 10, 2021 - Trolls Word Tour PG
Resident registration opens April 3. Non-resident registration opens April 5. Activity: #19858
Saturday, April 24, 2021 - The Karate Kid PG
Resident registration opens April 17. Non-resident registration opens April 19. Activity: #19860
Saturday, May 8, 2021 - Coco PG
Resident registration opens May 1. Non-resident registration opens May 3. Activity: #19861
Resident Fee: $10 per car
Non-resident fee: $15 per car
To help us plan a memorable experience, please register on-line Here or call (562) 866-9771 extension 2408
Refunds must be requested 48 hours before the event
Frequently Asked Questions
What Time Can I Arrive?
Car placement will begin at 6 p.m. Guests who arrive earlier than this time will be asked to leave and return at the appropriate time. Vehicles will be queued in a staging area, and placed on a first-come first-serve basis. Rows will fill from front to back. Specific spaces will be reserved in the back rows for large vehicles (trucks, vans, and SUVs determined to be large enough to obstruct the view of those behind them).
Where Do I Enter?
Best point of entry is to turn north off Del Amo onto Hazelbrook Ave. From there make a right on Silva St. and the entry gate will be marked on your right-hand side.

How Do I Show Proof of Registration?
Once queued, event staff will approach your vehicle and cross check your ID with the registration list. Please have your ID ready when you arrive. This slip will provide visual verification of registration to the parking attendants, who will help guide you to your space.

What If I am Running Late?
The movie is scheduled to begin at 7 p.m. Entrance will close 15 minutes after the scheduled start time.
What If I Need to Leave? / Can I Leave and Come Back?
Guests are asked to remain in their space until the conclusion of the movie. In case of emergency, you may leave. However, we do ask that you notify an attendant so that we can safely assist you with exiting the event area. Re-entry will not be permitted.

Do I Need FM Radio in My Car?
Yes! This is a "silent-style" drive-in event, with no speakers. The film's soundtrack will be accessible exclusively through your car's FM Radio, for maximum social-distance safety. We will provide you with the FM station upon arrival. Make sure your car has an FM radio so you can hear the film!

Can I Bring Food / Snacks?
Yes! Your car is your screening room — so bring all your favorite screening room snacks! To assist with
trash, event staff will circle the venue with trash bags to dispose of any waste.
ALCOHOLIC BEVERAGES, TOBACCO, and CANNABIS are prohibited at this event

Will You Have Restrooms?
Yes! Portable restroom facilities and hand washing stations will be available on site. As our approval of this event is based on our assurance of safety, we ask that folks wear protective masks when leaving their cars for any reason, including to use the restroom. Event staff will be on hand to keep those restrooms sanitized. As such, there may be a wait — to ensure you don't miss any part of the show, please consider a pre-trip restroom stop before heading out!

Remember to Turn Your Engine on Every Once in a While...
As you will be running your battery non-stop so that you can listen to the film on FM, you run the risk of killing your battery. We are ready to go with the jumper cables for those who need them!, but to eliminate the risk of your battery dying, remember to turn your car on every once in a while.

...But Mind Your Headlights!
Some cars have headlights that automatically turn on when the engine is turned over. There's generally a setting to eliminate that — please make an effort to switch that setting so that your headlights don't beam on when you power on your car, as headlights wipe out the image on the screen.

Mind Your Interior Lights and Brake Pedal
We understand that sometimes you have to flick on the dome light to look for something in your car, but please don't have your dome light on for an extended period of time — and certainly, not through the entire film. Any light proves very distracting to the audience around you. And lastly — we understand that it sometimes feels instinctual to do so, but please make an effort to keep your foot off your brake pedal. In a dark environment, brake lights provide quite the surprising glow.

Can I Sit in My Truck Bed? / Put My Convertible's Top Down? / Can I Throw the Hatch of My Hatchback Up and Sit in the Back to Watch the Show?
Please remember, all large vehicles will be parked in reserved areas in the back rows to minimize obstruction of the rows behind you.

Truck Beds – guests are allowed to sit in their truck beds, so long as they keep their protective masks on. Keep in mind, the soundtrack for the event will come from your FM radio, so plan accordingly (alternate system, slide open back window).

Convertibles – convertible tops must remain in the down position.

Hatchback/SUV – raised hatches have proven to be quite obtrusive to rows of cars behind them. If you are set on sitting in your hatchback with your hatch up, please notify staff so that they can place you in a large vehicle space, to avoid any issues. When the hatch is open, guests must keep their protective masks on.

Will You Be Hosting More of These?
Yes! The City of Lakewood and Lakewood Center plan to continue this partnership. Check out our website www.lakewoodcity.org and we'll keep you updated on future screenings and events!


E-Waste Recycling Event
July 24, 2021 through July 25, 2021
Electronic Waste Recycling Event! -Waste is any consumer electronic equipment that has reached its ...
May Kids Zone
May 8, 2021 11:00 AM - 12:00 PM | JCPenney
Kids can celebrate mom with a Wonder Woman card and coin pouch. Let Mom know she is your favorite su...